Silverware went the length and breadth of the country following the New Zealand Sevens on Saturday 25 November, with clubs from Auckland, Wellington and Queenstown among the victors.
Teams from across the north and south islands flocked to Hamilton, New Zealand for the first national games of the 2023/24 NZ Gaelic games calendar. Naomh Críostóir, who were only established in 2015, assumed hosting duties for the competition, having recently hosted their first national tournament in the NZ Championships earlier in the year. An outstanding feat for an up-and-coming club.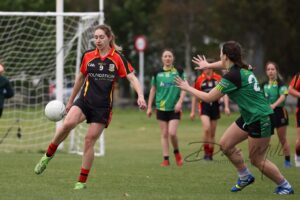 It was a frantic day of games, with six trophies up for grabs. In the men's senior football, hosts Naomh Críostóir, who in recent years have been competing in the junior grade, duly justified their place in the top tier by making it to the final. There they faced regular contenders in Marist Rangers of Auckland. It was a thrilling final, and in this 'Battle of the Bombays', it was the Auckland side who got over the line with a four-point win.
The women's senior football saw Wellington/Hutt Valley continue their imperious form in New Zealand –and Australasia – with a resounding victory over St Pat's Emerald City in the final. This is their fourth competition win on the trot, and few will be betting against them come the NZ Championships in March.
It was Wellington/Hutt Valley and a combined Auckland side contesting the hurling final. With Wellington eyeing up a third consecutive title, Auckland, who have been making great strides with the small ball in recent years, had different ideas. In a tight and tense game the Auckland side claimed a memorable three-point win, and in doing so, put an end to the recent Wellington-Canterbury supremacy over NZ hurling. The camogie final was also a Wellington/Hutt Valley-Auckland affair, with the camógs from the capital also aiming for three sevens titles in a row – and they didn't disappoint, running out convincing winners, and continuing their year-on-year progress.
The men's junior football final was a battle between the north and south islands as Wellington/Hutt Valley, another team from the capital looking to make it three sevens titles in a row, faced Queenstown Gaels. It wasn't to be for Wellington as Queenstown, who were one of the most impressive teams in Hamilton, dominated the final and ran out convincing winners. The women's shield final, meanwhile, was played between Celtic GFC of Auckland and Wellington/Hutt Valley's second team. This was a high-scoring game, with goals aplenty, but the Aucklanders' superiority up front got them over the line with a six-point victory.
Congratulations to all tournament winners, and a worthy bualadh bos to hosts Naomh Críostóir for their outstanding contribution to Gaelic games in NZ in 2023. Next up in the NZ calendar are the national championships in Queenstown on St Patrick's weekend, and it's sure to be a cracker.
Melbourne, Victoria will be a hive of Gaelic games activity this weekend as two tournaments usher in the Australian summer. The Seamus Moloughney Invitational Tournament on Saturday, and the Melbourne Super 11s on Sunday continue apace Gaelic Games Victoria's recent busy calendar.
Seamus Moloughney Invitational Tournament
On Saturday 2 December Young Melbourne will host the inaugural Seamus Moloughney Invitational Tournament at Albert Park, Melbourne. With a focus on participation and fostering a community spirit, the seven-a-side tournament will see women's and men's football teams from Victoria and beyond play in a safe, social and positive environment. To promote participation and enjoyment, only players not having played in any senior league or championship games in the 2022/23 season are eligible. Keep up to date with the tournament through the link below.
Young Melbourne GAA – Facebook
Melbourne Super 11s
The following day, Sunday 3 December, Gaelic Park in Keysborough will host the second annual Melbourne Super 11s competition. Organised by Sinn Féin and Wolfe Tones, this is the second edition of the 11-a-side tournament, and it will feature the four codes of men's and women's Gaelic football, hurling and camogie. With 34 teams participating, it is certain to be a competitive and high-quality day of games. Keep up to date with the tournament through the link below.
Super 11s Melbourne – Instagram
It was Regional Games glory for the Gaels of Geelong and Gold Coast, while three clubs made their competition debuts at a sun-soaked Harold Hurst Reserve in Geelong on Saturday 11 November.
The fifth edition of the competition, it was the biggest yet with 14 women's and men's teams across seven clubs lining out. It was also a competition of firsts, featuring several first-time players, clubs and winners.
Women's football
In the women's competition, five teams competed in the group stage: Ballarat Clovers, Geelong Gaels Blue, Geelong Gaels Red, Gold Coast Gaels, and Young Melbourne. After a competitive group stage and semi-finals, it was the two Geelong sides who met in the final. In this local derby, the more experienced Blue side – who boasted 2023 Australasia World Games reps such as Tahlia Tatlock, Tess DeGrandi and Tamara Knox – claimed a solid win over a gallant, youthful Red side, who have several young players who will no doubt make their mark for Geelong, and indeed Victoria, in future competitions.
Watch the women's final – YouTube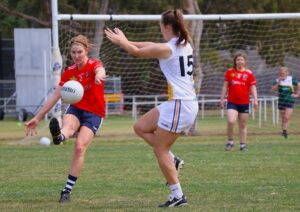 Congratulations to Ballarat Clovers and Young Melbourne – Victoria's two newest clubs – on making their Regional Games debut. It was Young Melbourne's first time fielding a women's team since their foundation in 2016, and to make the semi-final was an impressive feat.
Men's football
The men's football featured nine teams across two groups, and it was the Gaels of Geelong and Gaels of the Gold Coast who progressed through the group stage and semi-finals to set up a mouth-watering final. With both clubs celebrating their 10-year anniversaries in 2023, it was fitting that they would play the decider. While Geelong were hoping to top off their anniversary year with a repeat of the 2018 women's and men's double, Gold Coast were looking to mark theirs with a maiden trophy for the club.
The final was a thrilling contest between two evenly matched teams. However, the Gaels from Queensland, who were potent in front of goal all day, built up an early lead and managed to keep an organised and hard-working Geelong Maroon side at bay until the final whistle. Jubilant scenes followed amongst the Gold Coast players, management and supporters. Following on from their memorable win in the Queensland championship earlier this year, this victory will leave the club with plenty to celebrate at their anniversary celebrations at the end of the month.
Watch the men's final – YouTube
A special mention to the newly formed Cairns Chieftains who played at their first Regional Games, and recorded two draws before succumbing to their fellow Queenslanders in the semi-final. Also, Victorian clubs Ballarat Clovers and Young Melbourne, who fielded two teams of primarily Australian-born players, featured at their first Regional Games.
Fantastic day of Gaelic football
"It was a fantastic day of Gaelic football in Geelong", said Geelong Gaels President and player, John Reaney. "Congratulations to the Gold Coast Gaels on winning their first men's trophy, and also to our very own women's team who went back to back."
"We'd like thank Manifold Heights Cricket Club for their support in hosting the games. Also, thanks Cr Trent Sullivan, Mayor of Greater Geelong for presenting the women's trophy, and Ambassador of Ireland to Australia, H.E. Tim Mawe for travelling from Canberra to be in attendance for the day's events and presenting the men's winning trophy", said John.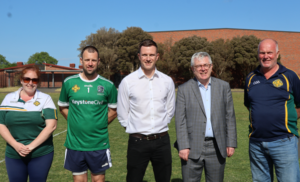 John continued, "we appreciate all our volunteers who put in a mountain of work on the day and over the past few months, including the Gaelic Football & Hurling Association of Australasia for their huge effort and support in providing a fantastic set of games."
"Finally, to all the clubs who travelled to make these the best games to date, thank you so much and we hope you enjoyed the weekend."
No doubt we're already looking forward to Tasmania in 2024.
All Stars and players of the tournament
Congratulations to the tournament All-Stars for their fine performances on the day, and a special bualadh bos to the players of the tournament: Tahlia Tatlock of Geelong Gaels women's team, and Patrick Meehan of Gold Coast Gaels men's team.
Women's All-Stars
Sarah Wray McCann, Young Melbourne
Tess DeGrandi, Geelong Gaels Blue
Isabella Cheel, Geelong Gaels Red
Aoife Nic a Baird, Young Melbourne
Dayna Archer, Ballarat Clovers
Rhona Markham, Gold Coast Gaels
Tahlia Tatlock, Geelong Gaels Blue
Kaylene Shilliday, Gold Coast Gaels
Megan Canaway, Geelong Gaels Blue
Bec Higgins, Geelong Gaels Red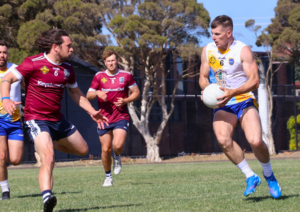 Men's All-Stars
Darragh Kelly, Gold Coast Gaels
Justin White, Geelong Gaels Maroon
Naomhán Ó Riordáin, Cairns Chieftains
Dara Blake, Young Melbourne Development
Tomas Drennan, Geelong Gaels Blue
Nigel Smith, Cairns Chieftains
Eoin Hanrahan, Young Melbourne Green
Patrick Meehan, Gold Coast Gaels
Ger Quirke, Geelong Gaels Maroon
Gold Coast Gaels, James Looney
Get ready for the fifth edition of the Australasia Regional Games, which throws in at Hurst Reserve, Geelong, Victoria on Saturday 11 November 2023.
Men's and women's teams from across Victoria, Tasmania, South Australia, and Queensland will converge on Geelong to battle it out for national silverware in this seven-a-side Gaelic football competition.
Held annually, the competition caters to Australasia teams in regional areas, as well as teams with predominantly non-Irish-born players. Having hosted their first Regional Games in 2018, Geelong Gaels are excited to welcome teams from across the country back to the Pivot City, with promises that this will be the best edition yet.
So mark it in your diaries now. It's going to be a brilliant day of Gaelic football, and another great opportunity to witness the quality of Australasia's homegrown talent.
For any queries, contact Australasia secretary Teresa Daly at secretary.australasia@gaa.ie and Geelong Gaels secretary Ryan Healy at secretary.geelonggaels@gmail.com.
Stay up to date with tournament fixtures and information on the Australasia Regional Games 2023 page.